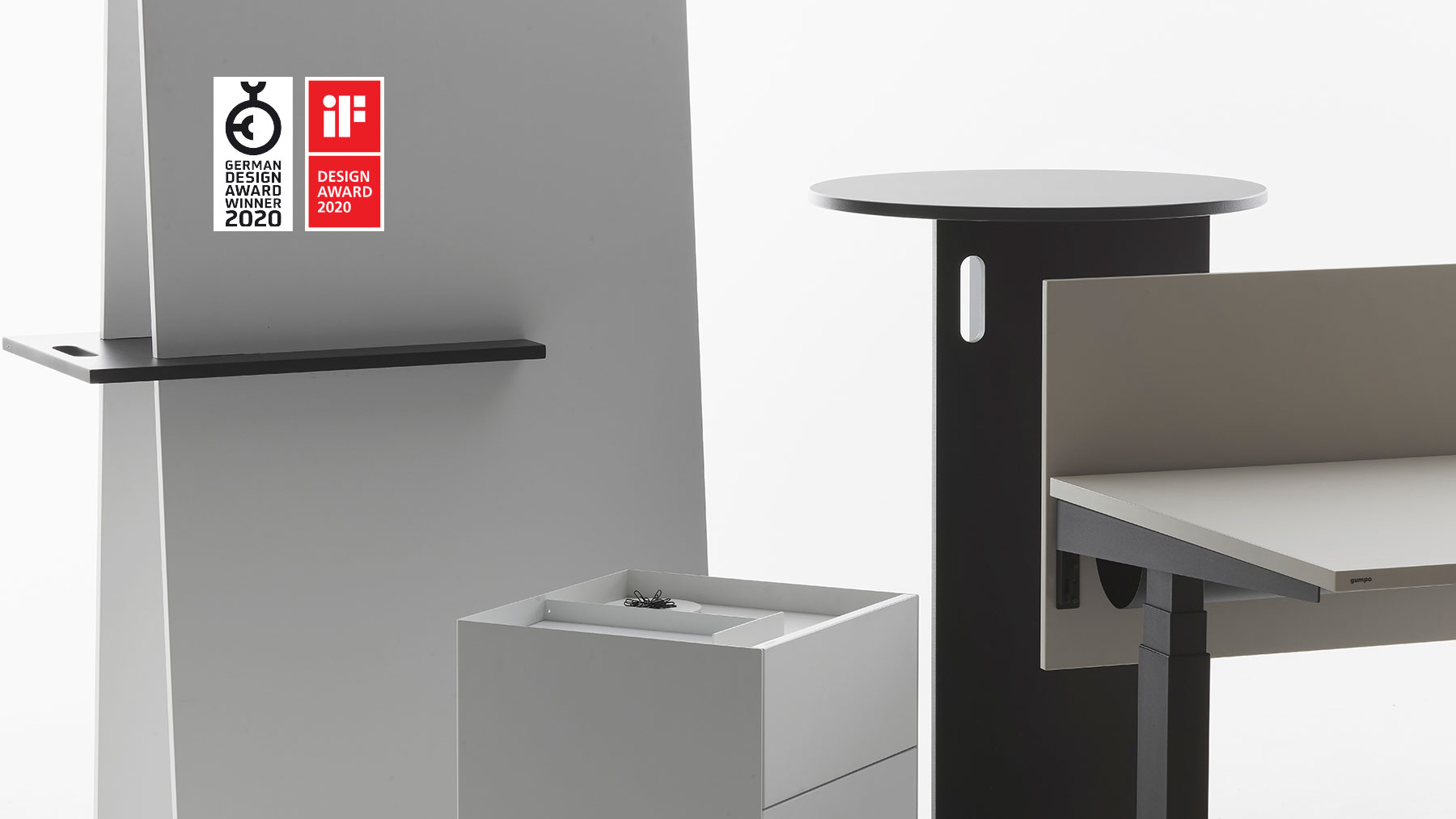 normcore collection receives German Design Award 2020
normcore collection receives iF Design Award 2020
The normcore office furniture collection, created in collaboration with the Munich-based design studio Relvãokellermann, receives the German Design Award 2020. The German Design Awards are among the most prestigious design competitions worldwide and have an excellent reputation far beyond specialist circles. The German Design Awards are presented by the German Design Council established as a foundation in 1953 on the initiative of the German Bundestag.
The motorised Sit-to-Stand desk steno impresses with a distinct silhouette made of a flat foot, round cable tray and a seemingly wedge-shaped worktop. Sloping side brackets conceal the technology and substructure. The cable tray, screening walls and accessories are easy to attach. steno makes desk work more ergonomic because you can work in both a seated or standing position.
When things have to go quickly, temp can be mobile in the wink of an eye. Simply turn the transverse panel and fold up the table top, then the high table can be easily moved and tucked away to save space. A well thought-out locking mechanism ensures that temp stands firm.
pleto is an alternative to conventional rolling containers. Its shell made of powder-coated steel lends it a monolithic appearance. The top layer acts as a tray, which can be individually organised with accessories. The modern trolley offers storage for utensils at a convenient height. Some of its accessories also cut a good figure alone on the desk.
Open-plan offices are great. However, sometimes you simply need to concentrate on work. This is why the simple backdrop partitioning system was designed. backdrop creates more private zones, provides privacy shields and absorbs direct sound. You can set up additional backdrop panels in rows to create larger work stations with four or six workplaces.
Für schnelles Brainstorming in der Runde ist ein Flipchart oft die beste Lösung. Einfach, aber nicht simpel, bietet der Entwurf von Relvãokellermann genug Raum für Ideen. Er besteht aus drei Platten, deren horizontale als Ablage für Stifte sowie Utensilien dient und zugleich die Konstruktion verkeilt und aussteift. Rollen machen das Flipchart leicht beweglich.
Inspired by a light-weight folding-screen, diptic is a wonderful piece of furniture, at which a screen can be attached. It can be set up anywhere in the room, creating an option for when you cannot fix things to the actual walls.
Meetings are increasingly held in standing position. saia is a high table that satisfies the demands of modern conference situations. The fabric-coated substructure creates a colourful highlight in the room. The cladding can also be removed so that cables can be laid easily and mains adapters can be stored. saia uses the joints of the divided table tops as a cable trough and for connector panels and accessories.
The modular conference table for any situation. The table tops and trestles can be combined as desired, meaning you can configure tables as wide as you need. Conferences today mean: Lots of mobile devices are on the table requiring connections and cables. dito uses the joints of the divided table tops as a cable trough and for connector panels and accessories – a simple solution instead of complicated mechanics. Connector panels are deliberately not concealed or integrated. They are placed directly on the table, making them easily accessible for all. The other cables and mains adapters disappear under the table in a net. dito is available in two heights – 750 and 900 mm.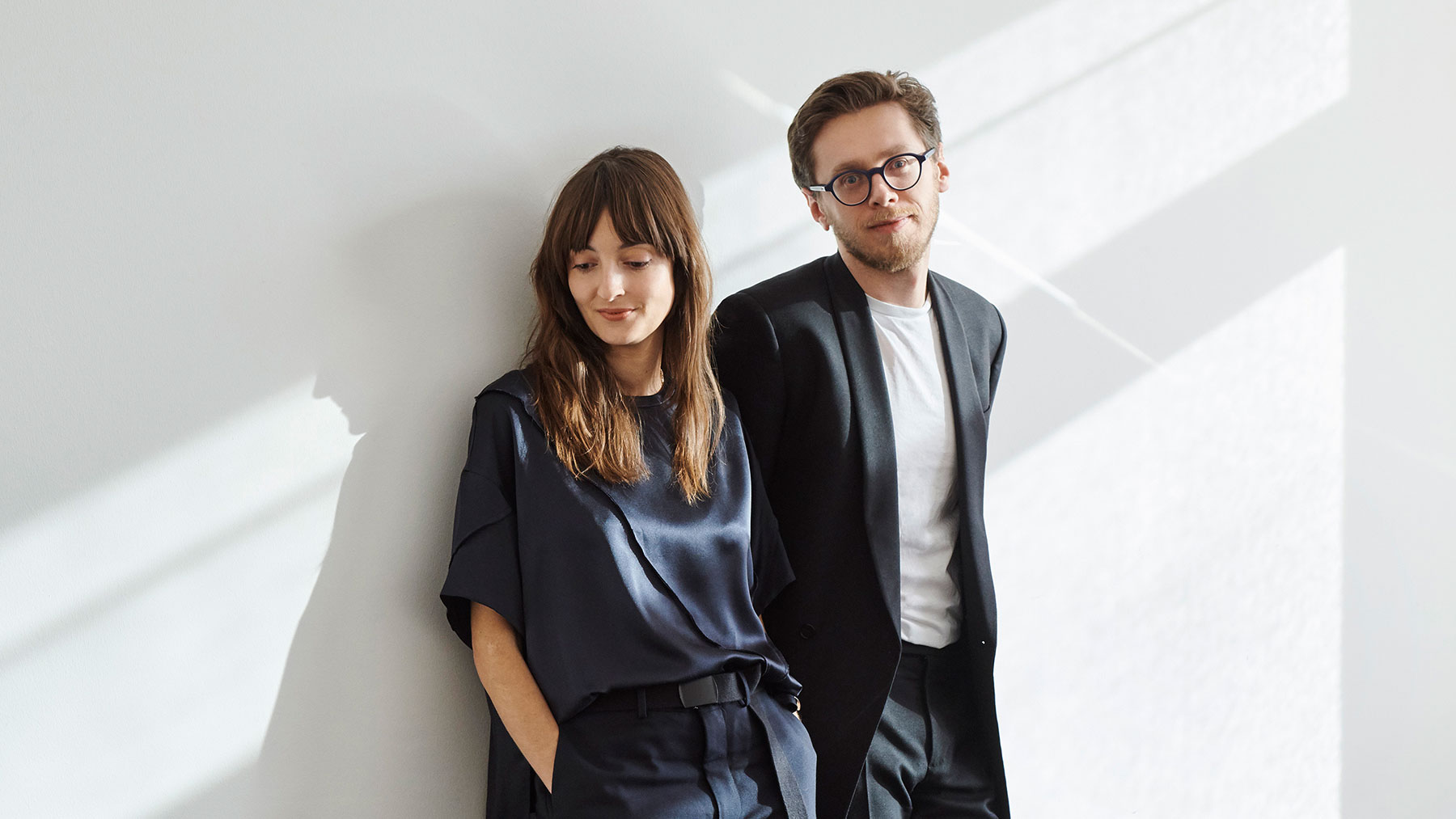 The designers Ana Relvão and Gerhardt Kellermann often compare their work with solving a Sudoku puzzle: what is present must continuously be questioned and each time aligned anew; yet the function and the practical value of an object remain fundamental to their designs.
The result of this process are self-evident products, which users can easily understand, products, whose reduced forms radiate nonchalance and discreet elegance. Relvãokellermann live and work in Munich. Besides being sought by international companies, they also work for cultural institutions and teach as visiting professors for industrial design at the Academy of Fine Arts in Stuttgart.
Anfrage / Katalogbestellung